2023 National FHB Forum Program
Home >> 2023 National FHB Forum
2023 National FHB Forum Program
Check out the full details in the 2023 National FHB Forum Program Book, and you'll also be able to view the excellent line up of speakers for the various General Sessions at this year's NFHB Forum in Cincinnati, Ohio. Additionally, you can now access all the abstracts and the virtual poster room for your onsite experience preparation.
Schedule at a Glance*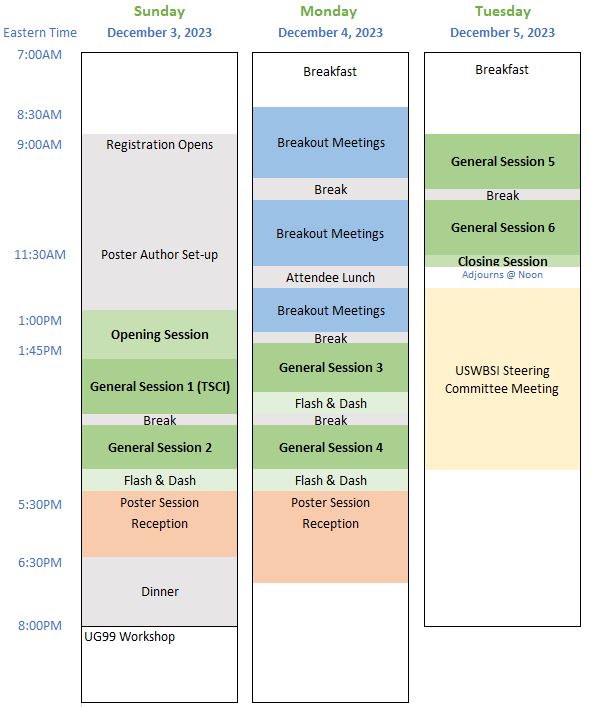 *specific session timing is subject to change, the NFHB Forum start and end times will remain as indicated. 

USWBSI 2023 Forum Organizing Committee (FOC)
Co-Chairs
Alyssa Collins, The Pennsylvania State University and Esten Mason, Colorado State University
Members
FHB Management
Alyssa Koehler, University of Delaware
Kelsey Andersen Onofre, Kansas State University
Food Safety & Toxicology
Jiajia Rao, North Dakota State University
Dave Kendra, Cibus
Gene Discovery and Engineering Resistance
Nidhi Rawat, University of Maryland
Matt Helm, USDA-ARS
Pathogen Biology and Genetics
Imane Laraba, USDA-ARS
Hye-Seon Kim, USDA-ARS
Variety Development and Host Resistance
Shengming Yang, USDA-ARS
Jason Fiedler, USDA-ARS