2022 National FHB Forum Program
Home >> 2022 National FHB Forum
2022 National FHB Forum Program Schedule
The following is the general outline of the program for the 2022 NFHB Forum to help in planning your arrival/departure.
The Forum Organizing Committee is currently finalizing plans for the Opening Session, and submissions have just opened for the Poster Sessions and Flash & Dash, make sure to check out the impresive 2022 General Session Speaker Lineup!


For attendees interested in presenting a poster during the NFHB Forum, abstract submission details are now available.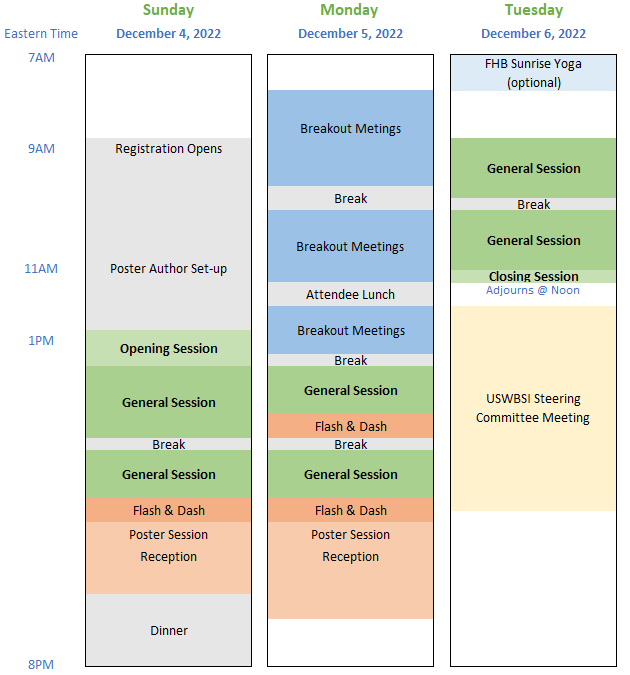 We are excited to see you all in person at the 2022 NFHB Forum!

USWBSI 2022 Forum Organizing Committee (FOC)
Co-Chairs
Carl Schwinke, Siemer Milling Co. and Alyssa Collins, The Pennsylvania State University
Members
FHB Management
Ce Yang, University of Minnesota
Alyssa Koehler, University of Delaware
Food Safety & Toxicology
Jiajia Rao, North Dakota State University
Xiang Yin, Rahr Malting Corp.
Gene Discovery and Engineering Resistance
Guihua Bai, USDA-ARS
Nidhi Rawat, University of Maryland
Pathogen Biology and Genetics
Peter Oppenheimer, North Carolina State University
Imane Laraba, USDA-ARS
Variety Development and Host Resistance
Nicholas Santantonio, Virginia Tech
Shengming Yang, USDA-ARS