Featured Researcher Bio - Sue Mondal 2023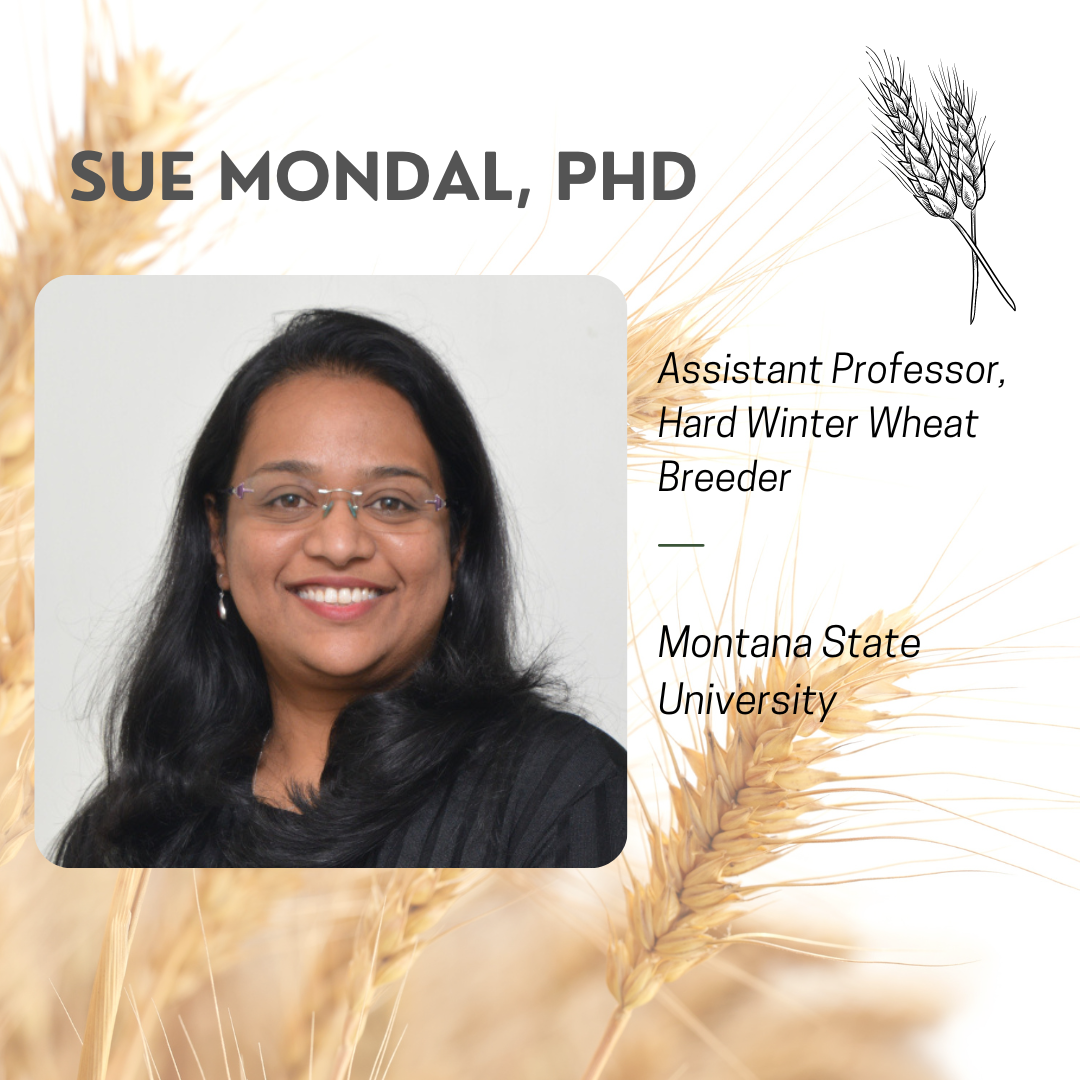 Meet Sue Mondal, PhD, assistant professor, and hard winter wheat breeder at Montana State University (MSU). Mondal recently joined the USWBSI in the Fall of 2022 as the new PI for the MSU winter wheat germplasm project to improve FHB resistance.
A Plant Breeder from the Start
Mondal received her bachelor's degree in agriculture from Benaras Hindu University, Varanasi, India. She then completed her master's degree in plant breeding at Texas A&M University where she studied the functionality of glutenin and gliadin alleles in tortilla quality. Mondal continued at Texas A&M for her doctorate degree in plant breeding studying heat stress tolerance. Her PhD research led her to a post-doctoral fellowship position at the International Maize and Wheat Improvement Center (CIMMYT) working on wheat breeding and abiotic stress tolerance. Staying at CIMMYT for nearly 11 years, Mondal worked as a wheat breeder on climate resilient wheat with pest and disease resistance. While at CIMMYT, she was introduced to FHB and worked alongside Dr. Pawan Singh to introduce genes for FHB resistance into breeding germplasm.
Mondal attributes her inspiration for working on wheat genetics to two people. First is Dr. Dirk Hays, her PhD advisor. Hays' approach towards research and his guidance helped Mondal grow as a PhD student and aided her in taking on her role at CIMMYT. Second is Dr. Ravi Singh, head of spring wheat breeding for CIMMYT. Working alongside Singh for 11 years, Mondal was influenced by his holistic approach towards breeding using integrated technologies to increase breeding efficiency and response to emerging wheat production threats. "His dedication and hard-working nature are unparalleled," says Mondal.
Improving Montana's Hard Winter Wheat
Mondal's program at MSU focuses on screening for FHB resistance in early generations and improving the marker-assisted selection strategy in winter wheat. Through the support from the USWBSI, the Montana State University winter wheat breeding program has made improvements in FHB resistance levels and is working toward a potential variety release. Mondal hopes the continued improvement and collaborations with other researchers will result in a Montana adapted FHB resistant winter wheat variety in the coming years.
First Time NFHB Forum Goer
Recently new to the USWBSI group, this past year was her first time attending the National Fusarium Head Blight Forum, in Tampa, FL. During her time at the Forum, Mondal had the chance to interact with other breeders and pathologists to discuss collaborative research projects. She hopes this connection between research and breeding continues.
Interaction and Learning Are Key for the Future
As a graduate student once herself, Mondal encourages graduate students and post-doctoral researchers to keep interacting with one another. She shared that it is important to learn about ongoing research within your discipline, but also encourages building connections across the spectrum to allow for interaction, discussion, and future collaborations.
If you are interested in learning more about Dr. Sue Mondal's research, visit her faculty webpage.
You can also check out the series of previous USWBSI Featured Researchers.