Featured Researcher Bio - Santiago Mideros August 2021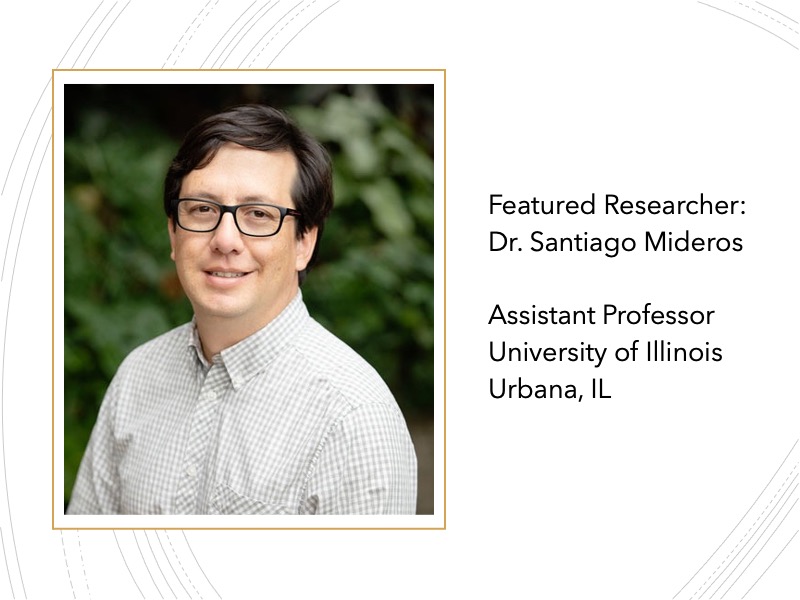 Meet Santiago Mideros, Ph.D., an assistant professor, at the University of Illinois. Dr. Mideros is a newly funded PI with the U.S. Wheat and Barley Scab Initiative. His projects focus on aggressiveness and fungicide sensitivity of Fusarium graminearum and integrated management and are funded under the Pathogen Biology and FHB management categories of the RFP.
USWBSI: Briefly share some background on yourself and your research program.
Santiago Mideros: I am a plant pathologist with experience in the area of plant disease resistance. In my laboratory at the University of Illinois, we develop precision disease management techniques for significant diseases of field crops. A fundamental knowledge gap exists about the timely detection and characterization of variants of pathogens of field crops. Thus, one of the areas of focus for my laboratory is to collect and study pathogen strains across Illinois. We study these strains, their diversity, and the drivers of this diversity.
USWBSI: What novel techniques are being implemented in your research program?
Santiago Mideros: Essential to understanding pathogen diversity and how it relates to management practices is to be able to characterize different pathogen strains. We use the power of sequencing technology to genotype pathogens. Recently we implemented skim sequencing to score over 30,000 variants in a fungal population of more than 100 individuals. We use those types of large genetic datasets to characterize pathogen diversity and identify how selection pressures impact the genome. We also collect high-quality phenotypic data using image analysis of greenhouse and field experiments. This enables us to identify the genes underlying virulence and aggressiveness of plant pathogens.
USWBSI: What excites you most about your research and current position?
Santiago Mideros: I enjoy the research and teaching aspects of my position and am excited by making an impact in those areas. I am excited about teaching about the diseases of field crops and learn something new every year. I love the look on students' faces when they get good microscope views or learn another quirky fact about fungi. For the research part of my job, I am amazed by the genome-wide analyses that are facilitated by current genome sequencing technologies. I look forward to a future when we can detect the pathogen before it becomes a problem for the farmer.
If you are interested in learning more about Dr. Santiago Mideros you can view his website and reach him via email.
 
Is your research aligned with the mission of the U.S. Wheat and Barley Scab Initiative? The FY22 USWBSI Request for Pre-Proposals is now in progress. USWBSI will be accepting pre-proposals until September 21. Check out the details for the FY22 USWBSI RFP under the Research Area Individual Projects Category today! (All other categories required a Letter of Intent and are now closed.)
View past month's USWBSI Featured Researcher's.