Featured Researcher Bio - Paul Schwarz October 2021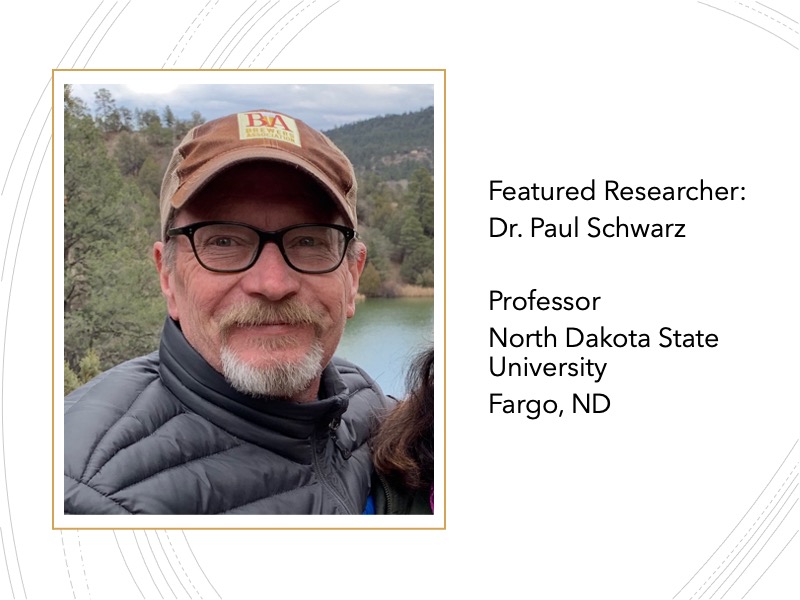 Meet Paul Schwarz, Ph.D., professor in the department of Plant Sciences and director of the Institute of Barley and Malt Sciences at North Dakota State University. Dr. Schwarz has been a PI with the U.S. Wheat and Barley Scab Initiative (USWBSI) since its inception more than 20 years ago. Leading the barley deoxynivalenol (DON) testing lab, his research projects throughout the years have focused on evaluating barley lines for mycotoxin contamination, determining genotypes ability to convert DON to DON-3-glucoside, examining the distribution of DON contamination in grain kernels and malt, determining the localization of Fusarium within the kernel, and evaluating infection parameters and storage conditions that affect the viability and growth of Fusarium during the malting process.
Grounded in Brewing
Dr. Schwarz received his Bachelor's of Science in Agronomy from the University of Wisconsin-Madison. He studied Cereal Chemistry and received his M.S. and Ph.D. at North Dakota State University. After finishing his M.S. degree, he took some time to complete a "Prakitkum in Brewing" in Switzerland before starting his Ph.D. Although not an official degree, it is something he is very proud of.
Growing up in Milwaukee, WI, he has always been interested in brewing. As an undergraduate, he gained the opportunity to work in a malthouse. This led him to the malting program for graduate students at NDSU. Through his M.S. advisor, Dr. Richard Pyler, Dr. Schwarz was introduced to many people who influenced his choice in a career in malting and brewing science. 
Focused on Quality
He started his current position at NDSU in 1989. During this time, much of his research was focused on quality issues that were immediately concerning to the barley growers, maltsters, and brewers. He was first introduced to Fusarium Head Blight (FHB) in 1993, when a widespread incidence occurred in ND and MN infecting much of the barley crop. His lab was asked to research the fate of DON during the malting and brewing process. Malting and brewing trials were conducted; and a partnership with Dr. Howard Casper, NDSU Veterinary Diagnostic lab, aided in the development of methodology and analysis of DON. Several years later, his lab was approached to lead DON testing for barley for the USWBSI. Dr. Casper aided him in the establishment of his DON testing lab and he was encouraged to become more involved with FHB research by Dr. Brian Steffenson, former NDSU barley pathologist, and Dr. Rich Horsley, NDSU barley breeder.
Driven by Collaborations
Some of Dr. Schwarz's more memorable projects are those where he was able to collaborate on research with pathologists and breeders. According to him, his most memorable findings include being "the first lab to report on the development of DON during malting of naturally infected barley, and the transfer of DON from malt to beer." Additionally, his lab's recent work on infection timing and localization of Fusarium in relation to DON development in malting has been exciting.
His biggest accomplishment relating to Scab research, has been supporting the needs of numerous USWBSI funded researchers for the past 20 years with DON testing. He and his lab have worked to help with Food Safety education within the malting and brewing industries, which "has especially been important in recent years with the rapid growth of local grains and craft malting, as these operations are often in areas that are impacted by FHB," says Dr. Schwarz.
Best Wishes in Retirement
The USWBSI would like to thank Dr. Schwarz for his impressive commitment to FHB research and DON testing for the past 20 years and the numerous other PI's projects he has aided. Please join us in wishing him all the best in his retirement.
If you are interested in learning more about Dr. Paul Schwarz you can view his research page and reach him via email.
View past month's USWBSI Featured Researcher's.