Featured Researcher Bio - Paul Murphy 2023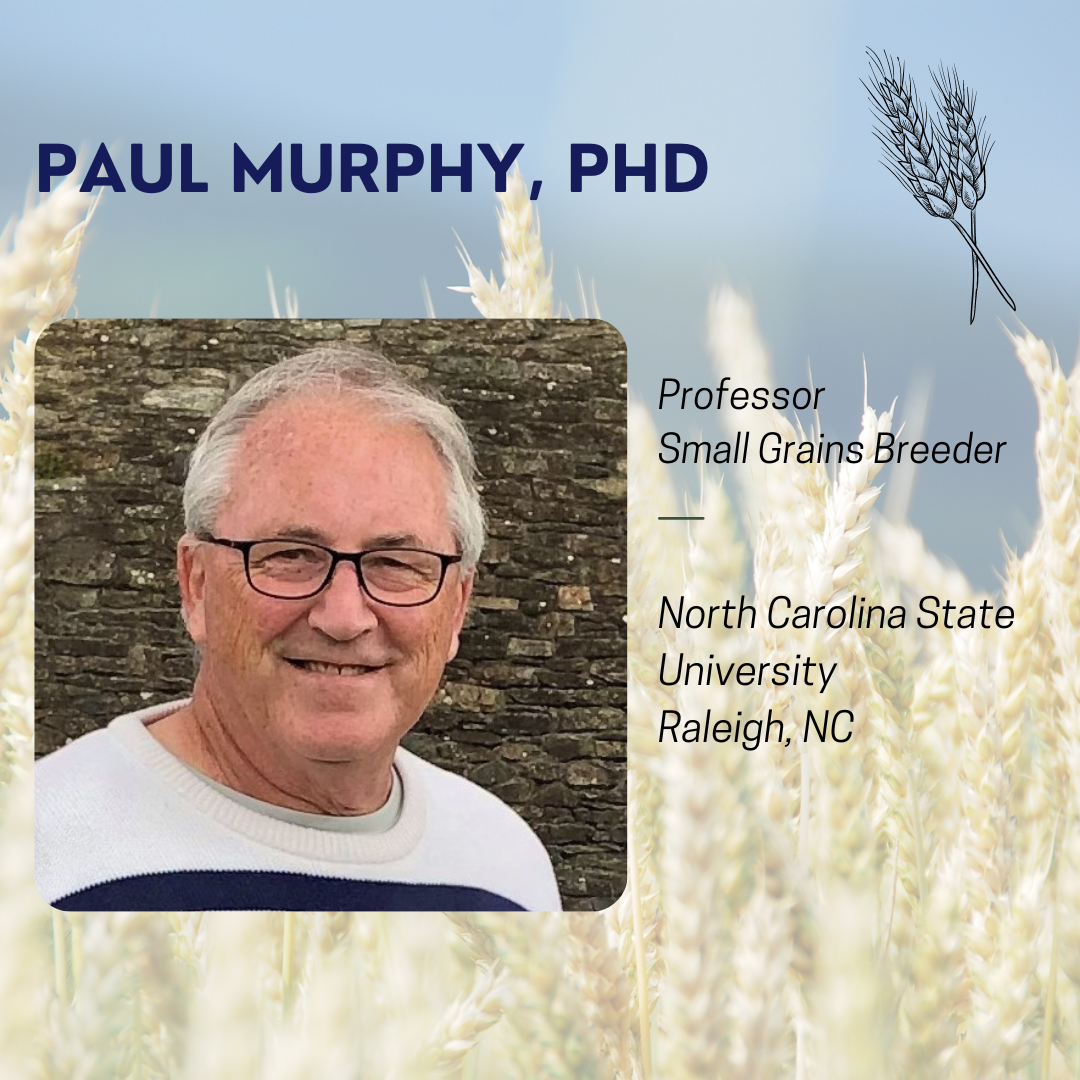 Meet Paul Murphy, PhD, professor of small grains breeding in the Department of Crop and Soil Sciences at North Carolina State University. His wheat breeding program emphasizes grain yield and end-use quality traits in addition to resistance to powdery mildew and leaf rust. Murphy has been a principal investigator with the U.S. Wheat and Barley Scab Initiative (USWBSI) since 1999. During his time with the USWBSI, he has served as the Chair of the Variety Development and Host Resistance Southern Winter Wheat Research Area and a member of the Steering Committee. His currently funded USWBSI project focuses on developing FHB resistance soft red winter wheat adapted to North Carolina and the southeastern U.S.
From Ireland to Iowa
Hailing from Ireland, Murphy worked in a family elevator/malt business making malt for Guinness Brewing. It was here that he saw how important good varieties are for not only the growers but the end users as well.
Murphy went on to receive a bachelor of agricultural sciences from the University College Dublin in 1975. He then completed a master of science (1975) and doctorate of philosophy (1981) degrees both in plant breeding and cytogenetics from Iowa State University.
A Blueprint Initiative
"The USWBSI, in general, was the very best research grant I was involved with during my career," said Murphy. The group has always applied basic plant breeding and plant pathology skills to meet the needs of the growers and gained significant momentum by interacting with generous, and helpful people in the spring wheat and barley regions. Murphy attributes scab as the force that led to the widespread use of marker-assisted selection. From there, the effects of this technology on breeding are immeasurable. He can't imagine a world without the USDA-ARS genotyping labs. According to Murphy, the partnerships between these labs and the public breeders are critical to the success of developing new varieties.
Murphy believes the USWBSI has been a great success because the level of accountability and the spirit of camaraderie that brought everyone together. "If it were not producing – it was very obvious!" said Murphy. He has lobbied many times in Washington D.C. for the USWBSI. During these trips he has mentioned to Congress that the USWBSI should be used as a "blueprint" for other initiatives to address future emergencies.
Reflections Upon Retirement
In his 24 years with the USWBSI, Murphy believes his biggest accomplishments are: 1) the incredible collaborations that lead to publishing the Uniform Southern Scab Nursery Report annually and 2) the distribution of resistant germplasm, especially during the early years of the USWBSI.
Paul Murphy will retire his breeder hat this year. With all his newfound time he will "Relish every moment not spent on writing grants, reports, committees, trainings, and having Carl Griffey and Jerry Johnson always producing better lines than I do," said Murphy.
The USWBSI offers its congratulations to Paul on his upcoming retirement, and thanks him for his many dedicated years of service and leadership to the USWBSI.
If you are interested in learning more about Dr. Paul Murphy's research, visit his faculty webpage.
You can also check out the series of previous USWBSI Featured Researchers.