Featured Researcher Bio - Mickey Drott Sept 2022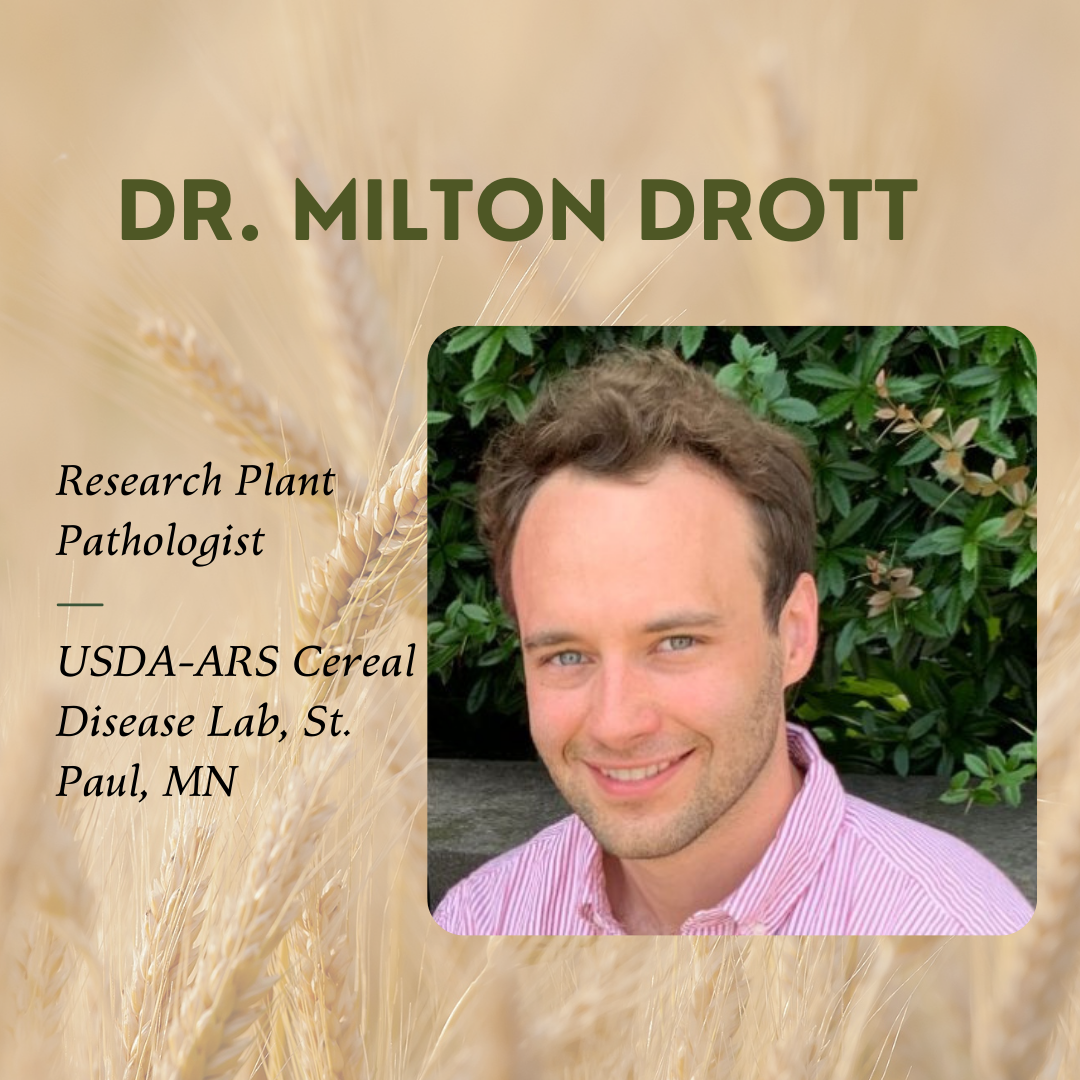 Meet Milton (Mickey) Drott, Ph.D., a research plant pathologist at the USDA-ARS Cereal Disease Lab (CDL), in St. Paul, Minnesota. Dr. Drott recently joined the USDA-ARS CDL and the vast group of USWBSI researchers in May.
From Medicine to Plant Doctor
Mickey grew up in Pennsylvania. While walking through the woods with his grandfather he developed a passion for plants. During high school, he became very interested in the medical sciences and began working in the emergency room and as an EMT. Even though he enjoyed working in medicine, Mickey decided he preferred plants to people. When attending a lecture on how plant diseases have shaped some important historical events, Mickey realized he could merge his interests of medicine and plants within the field of plant pathology.
After high school, Dr. Drott attended Franklin and Marshall College and received his bachelor's degree in biology. He then attended Cornell University for his Ph.D. studying Plant-Microbe Biology under the guidance of Dr. Michael Milgroom. Recently, Mickey completed his postdoctoral work at the University of Wisconsin-Madison, with Dr. Nancy Kelly, studying how fungal toxins shape the evolution of diverse fungal taxa using genomic and bioinformatic techniques.
Joining Our Community
Mickey recently accepted a position as a research plant pathologist within the USDA-ARS. In addition, he is a new member of the USWBSI community. His current research focuses on understanding why mycotoxigenic fungi produce toxins. Through population identification of plant pathogens that produce toxins, it may be possible to establish new targets for controlling disease and prevent regional mycotoxin outbreaks. Mickey's work allows him to make discoveries and contextualize them using the hundreds of publicly available genomes. By using these resources, one may be able to apply the results from one pathogen-crop system to another.
During his short time within the community, Mickey has already noticed the tremendous opportunity the USWBSI offers to bring together researchers from interdisciplinary backgrounds with the common goal of improving wheat and barley against the threat posed by Fusarium head blight.
Making Research Sustainable
While most people become fascinated with science from the basic curiosity to understand how the world works, sometimes the rigorous hours and pace leave little room for creativity. Dr. Drott encourages graduate students and other early career professionals to approach science in a personal way which allows one to create a sustainable relationship for developing and asking novel questions.
If you are interested in learning more about Dr. Milton Drott you can reach him via email.
You can also check out the series of previous USWBSI Featured Researcher's.