Featured Researcher Bio - Gazala Ameen July 2022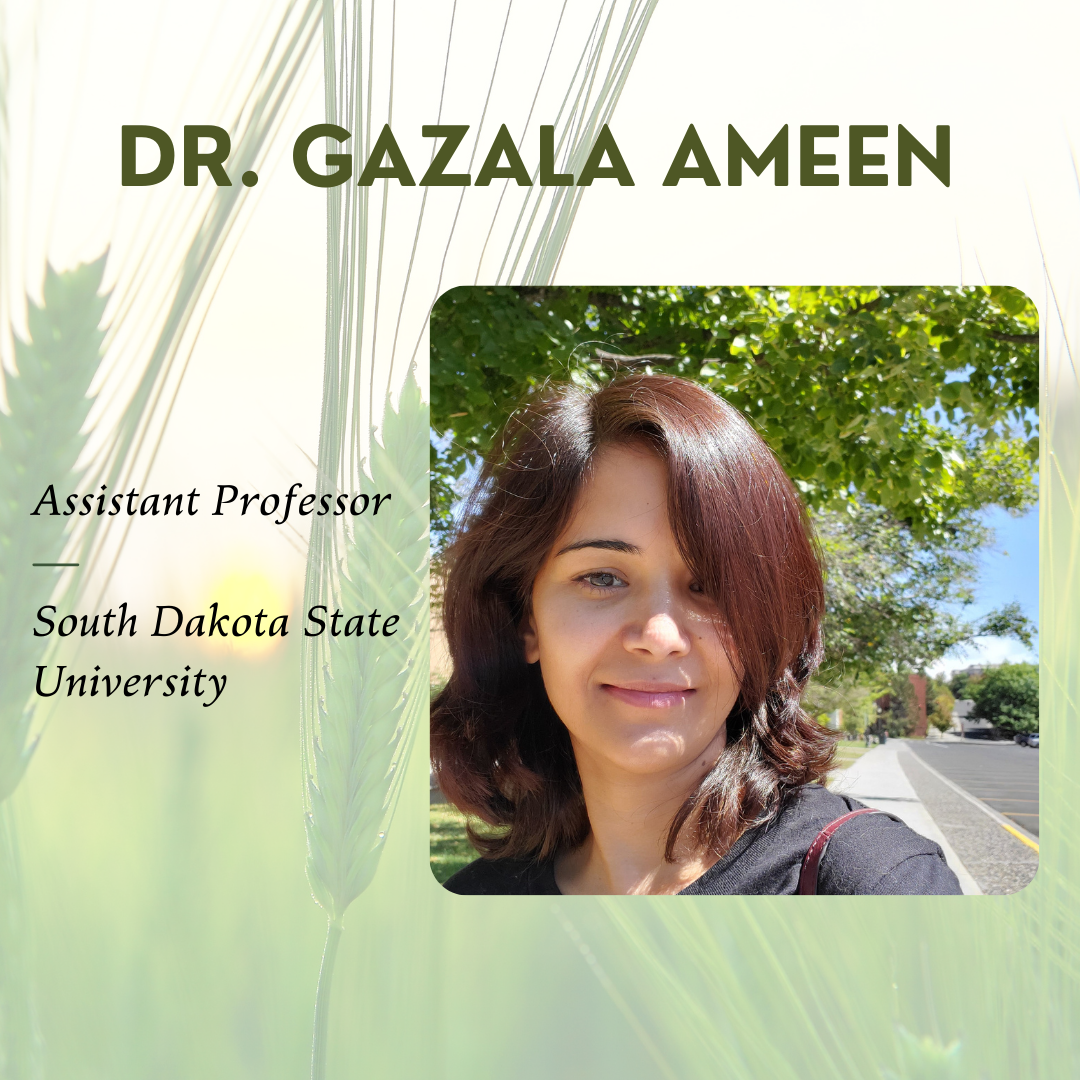 Meet Gazala Ameen, Ph.D., an assistant professor at South Dakota State University. Dr. Ameen joined the Department of Agronomy, Horticulture and Plant Science last fall. She is a new USWBSI-funded PI. Her current project focuses on screening winter and spring barley lines adapted to South Dakota for FHB resistance.
Preference for Plant Pathology
Dr. Ameen hails from Gorakhpur, a small town in the Northern region of India. She obtained her undergraduate degree from Acharya N.G. Ranga Agricultural University. During her time as an undergraduate she became amazed with the world of plant pathology. She began to immerse herself in the basics of it and during her final semester of the Rural-Work Experience Program she realized she could make a significant difference in the lives of growers as a trained plant pathologist.
After finishing her undergraduate degree, she moved to the United States to pursue a M.S. and Ph.D. in plant pathology at North Dakota State University under the advisement of Dr. Luis del Rio and Dr. Robert Brueggeman. During her Ph.D. with Dr. Brueggeman, Dr. Ameen gained expertise in both genomics and molecular plant pathology which allowed her to clone two resistance genes in barley (rcs5, a resistance gene for spot blotch, and Nec3, a conserved gene which regulates the programmed cell death immunity pathways against several plant pathogens). Both scientific accomplishments aided in solidifying the foundation of her career choice and helped to shape her goal to provide growers with sustainable solutions for plant health.
United with the USWBSI
While FY22 is Dr. Ameen's first year being a USWBSI-funded PI, she has been a collaborator on previously funded projects. One project that comes to mind was with Dr. Paul Schwarz looking at the correlation between elevated levels of DON during malting and the Fusarium hyphal localization and growth in the kernels of wheat, rye, and barley. The results of this research were recently published in the journal Molecular Plant-Microbe Interactions.
In her current project, Dr. Ameen is working on developing winter barley cultivars with improved winter hardiness and FHB resistance for South Dakota. In addition, she is screening spring barley cultivars for FHB resistance. Dr. Ameen aims to provide both spring and winter barley alternatives to South Dakota growers to incorporate into their current cropping systems. In addition to providing additional crops into the rotation, these crops will help fill the malting needs of the local craft beer industry.
Dr. Ameen's favorite part of the USWBSI is the collaboration between all the different research areas. "It is a challenging pathosystem, but very rewarding to contribute your share of research towards the Scab Initiative," says Ameen. Though she has just started, she is looking forward to contributing to the communication channel through her research.
Professional Pointers
Dr. Ameen advises those who may want to enter the field of plant pathology, especially host-pathogen interaction, to have a deep understanding of scientific concepts and develop good critical thinking skills. It's also important to always work to improve your communication and networking skills.
If you are interested in learning more about Dr. Gazala Ameen you can view her faculty profile and reach her via email.
You can also check out the series of previous USWBSI Featured Researcher's.