Featured Researcher Bio - Cory Hirsch July 2021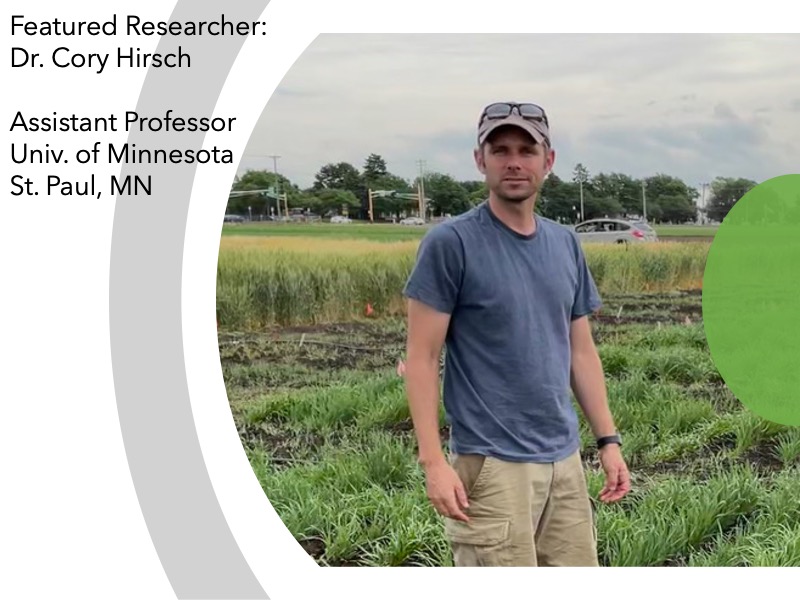 Meet Cory Hirsch, Ph.D., an assistant professor, at the University of Minnesota. Dr. Hirsch is a newly funded PI with the U.S. Wheat and Barley Scab Initiative. His project, "Efficacy of Mineral Rover for High Fidelity/Temporal Resolution of Field FHB Severity", is in its first year and is funded under the Transformational Science category of the RFP.
USWBSI: Briefly share some background on yourself and your research program.
Cory Hirsch: I am a computational biologist focused on applying phenomic and genomic techniques to research how and why plants respond to stress. I have always been interested in understanding the phenotypic responses of stressed plants and the underlying molecular mechanisms that direct these changes. I am also particularly interested in increasing the speed, accuracy, reliability, and automation of field-based phenotyping. I have the privilege to work with great graduate students and collaborators to advance research on plant disease detection, response, development, and yield and quality impacts. Previously we developed image acquisition and analysis pipelines, including machine learning modeling for wheat, barley, soybean, and corn diseases. We are excited for the opportunity to advance and apply our previous research done in other systems to fusarium head blight (FHB) in wheat and barley. For this project funded by the USWBSI, we are using our experience in high-throughput phenotyping and data management to develop a field-based FHB phenotyping platform. 
USWBSI: What novel techniques are being implemented in your research program?
Cory Hirsch: FHB is a devastating disease of wheat and barley that can markedly reduce both yield and grain quality. If there ever was a need for automated phenotyping, it would be for this disease. Many FHB research projects rely on field phenotyping of severity, but current disease assessment methods are labor intensive, costly, subjective, and relatively low throughput. Increasing phenotyping throughput for FHB field assessments is necessary for continued improvement of resistant varieties and efficacy of management practices for FHB. This project is determining the effectiveness of a cutting edge, highly sophisticated field-based phenotyping rover to collect high temporal and fidelity images of FHB infected wheat and barley plants. Advanced object detection and machine learning techniques will be applied to an unprecedented amount of images to detect FHB in wheat and barley. We are currently using the rover to collect images from thousands of FHB screening plots twice weekly and will work to detect FHB from the images as the project progresses.  
USWBSI: What excites you most about your research and current position?
Cory Hirsch: I get most excited about applying mine and my groups skill and knowledge to stresses that limit the yield and quality of important crops. My current position gives me the ability to work with graduate students and collaborators that have diverse research focuses and interests, which I really enjoy. It is highly rewarding to bring different approaches, ideas, and skills together for a larger purpose. 
If you are interested in learning more about Dr. Cory Hirsch you can view his website and reach him via email.
Is your research aligned with the mission of the U.S. Wheat and Barley Scab Initiative? The FY22 USWBSI Request for Pre-Proposals is now in progress. USWBSI will be accepting pre-proposals starting on August 3. Check out the details for the FY22 USWBSI RFP under the Research Area Individual Projects Category today! (All other categories required a Letter of Intent and are now closed.)
View past month's USWBSI Featured Researcher's.